About Us


Lucy Kemp Jewellery has won the Muddy Stiletto 2016 AND 2017 AND 2019 Award for BEST JEWELLERY STORE in Cornwall!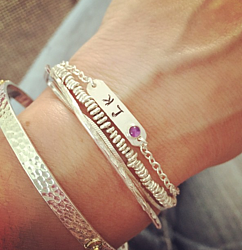 Lucy Kemp Jewellery has been trading since 2001. Lucy started the business working from a studio at home. The business has grown and so has the team! Located in the stunning town of Hayle, Cornwall Lucy designs, makes and produces all of the bespoke pieces in-house, with the assistance of her wonderful team.
Lucy and the team pride themselves on producing high quality items in large volumes with a constant high demand with wholesale orders , shop stock and online orders.
We are able to make one of every item for your order or lots! Our biggest order to date has been 1,600 of the same necklace!
All our jewellery is made from Sterling Silver, Fine Silver & 24t Gold Vermeil.
Lucy Kemp Jewellery, The Old Foundry Chapel, Hayle, Cornwall, TR27 4AB
Email: [email protected]
Company Number - 09493607
VAT Registration No - 208591207